In recent days in Rome we have seen a people – in numbers well above expectations – who have already begun to live that primacy of prayer and of God which is Benedict XVI's greatest legacy.
And only this presence is a testimony, which stands out even more in front of a funeral director who has tried to keep the lowest possible profile.
By Nicolo Spuntoni

"And to think that when he was Pope it didn't seem that he was so loved by the people," the taxi driver told us upon our arrival in Rome, commenting with surprise on the considerable movement of pilgrims around St. Peter's Square. Power of the media, which for years have portrayed Pope Benedict XVI as a cold defender of doctrine away from the people, to the point of even convincing his confreres in the Vatican, totally taken aback by the influx of faithful far beyond forecasts. The influx of tens and tens of thousands of people who arrived in Rome to pay homage to the body of the Pope Emeritus before the celebration of the funeral celebrated on the morning of January 5, belies that representation in the clearest way.

Of course, let's not talk about the incredible crowds that literally paralyzed Rome at the death of Saint John Paul II on April 2, 2005 until the day of his funeral, the following April 8. But the circumstances are also very different: John Paul II was then a reigning Pope who had dominated the world scene for nearly 27 years and the subsequent election as Pope of Cardinal Joseph Ratzinger, his closest collaborator and friend, also seemed in those days gained on the wave of enthusiasm.

Here we have a Pope Emeritus who not only retired to monastic life ten years ago, but who saw his Pontificate succeed him which was largely characterized by the desire to cancel his legacy.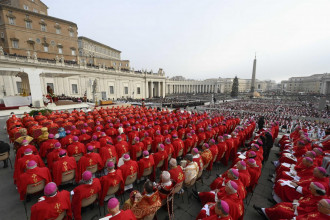 One could well think that Benedict XVI was by now forgotten by the people. Instead, the crowd that arrived in Rome in recent days (about 200,000 people took on the burden of a long queue during the three days of the exhibition to honor Benedict's body) was made up of people in whom Benedict's lesson and testimony it has already settled: it is no longer a seed, but at least a plant that is growing luxuriantly.
It is no coincidence that we were struck by the presence of so many young priests , who evidently matured their vocation and their priesthood during Benedict's pontificate, a real "Ratzinger generation". And in fact, one of the choirs rose up from the sector reserved for priests " Santo Subito" at the end of the Mass. And young adults were also many of the pilgrims seen these days. A composed crowd, gathered in prayer, eager to say thanks to that humble pastor who showed us what the primacy of prayer means in the life of every Christian and of the Church. People who have learned that facing life in God's company makes every circumstance livable and brings joy even in suffering and fatigue, as he himself testified to us in his spiritual testament .
Many bishops and cardinals also wanted to be there, although it was not "mandatory" given that it was not a reigning Pope. And if we cannot exclude a percentage of "politically motivated" presences, the vast majority of those present were there out of gratitude and friendship. Starting with the Chinese "old lion", the bishop emeritus of Hong Kong, Cardinal Joseph Zen. In a few days he will turn 91, he is on trial in Hong Kong but has asked for and obtained a 5-day permit to come to the funeral of Benedict XVI; he arrived early on the morning of the 5th and immediately went to St. Peter's Square for the funeral. And before leaving Hong Kong he wrote a touching memoir of the Pope emeritus, recalling what he has done for the Church in China and how the Letter to the Chinese written in 2007 remains the basis for "every effort to improve the situation of the Church in China".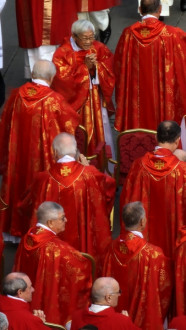 Moreover, we are talking about presences that are certainly not encouraged, given the evident desire to make the ceremony low-key, which also includes a certain organizational approximation, not to mention the decision not to proclaim even a day of mourning in the Vatican. In this regard, we cannot ignore the explicit discontent and disappointment - which we ourselves have gathered - for an all too weekday liturgy on such an occasion, culminating in a homily by Pope Francis which left us disconcerted: due to its brevity, formality and absence of any personal involvement with Benedict, whose name rang out only once at the very end of the reflection.
But if the death of Benedict XVI and his funeral teach us anything, it is that in this devout and prayerful people lies the hope of the Church: a people irreducible to ideologies and diatribes of ecclesiastical politics, which lives happily and certain of a clearly indicated path, even in a time of great turbulence and confusion; a people that has already said yes and is determined to live that profound appeal that resounded in Benedict's spiritual testament : «Remain firm in the faith! Do not be confused (…) Jesus Christ is truly the way, the truth and the life — And the Church, with all her insufficiencies, is truly His body »
Source: https://lanuovabq-it.translate.goog/it/il-seme-piantato-da-benedetto-e-gia-diventato-un-popolo?_x_tr_sl=it&_x_tr_tl=en&_x_tr_hl=en-US