Call for FILIBUSTER of Elena Kagan
July 13, 2010
[Operation Rescue is joining with the Life Priority Network to call for the filibuster of Elena Kagan's confirmation to the U.S. Supreme Court.]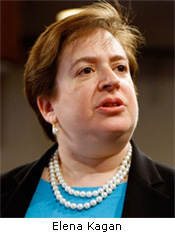 The Senate Judiciary Committee is poised to recommend to the U.S. Senate the confirmation of Elena Kagan for the US Supreme Court. Elena Kagan is a radical anti-life, anti-marriage and Constitution interpretation activist. A Committee recommendation could virtually assure her Senate confirmation and a lifetime of radical activism in the highest court of the land. Confirmation can be stopped now with a Committee filibuster under Committee Rule IV,
http://judiciary.senate.gov/about/committee-rules.cfm
.
Elena Kagan is an anomaly, unfit for appointment to the U.S. Supreme Court. She has never been a judge...anywhere.
Here is her position on profound issues before the Nation:
Under the Clinton Administration she advocated partial-birth abortion, the cap-stone of radical abortionism. http://www.lifenews.com/nat6482.html
As the Dean of the Harvard Law School she accelerated and legitimized the gay-lesbian-bisexual-transgender "rights" concept and law studies at the Harvard Law School and in the larger community. http://www.massresistance.org/docs/gen/10b/kagan/index.html
In Judiciary Committee hearings she expressed that precedent can trump original intent of the Constitution when formulating case decisions.
These are bedrock issues that reveal where she would take and make American law.
Phone, fax, and/or e-mail the Republican members of the Senate Judiciary Committee now and implore they filibuster the confirmation of Elena Kagan, which is possible under Committee Rule IV. Simply voting against her will not prevail over the Democrat majority of the Committee. Republicans must stand 100% united in a filibuster to stop this radical person from confirmation. Special emphasis needs to be placed on Senator Lindsay Graham of South Carolina who voted for confirmation of liberal Justice Sonia Sotomayor.
Contact these Senate Judiciary Committee Republican Senators now:
________________________________
About Operation Rescue®
Operation Rescue is one of the leading pro-life Christian activist organizations in the nation and has become a strong voice for the pro-life movement in America. Operation Rescue is now headquartered in a former abortion clinic that it bought and closed in 2006. From there, Operation Rescue launches its innovative new strategies across the nation, exposing and closing abortion clinics through peaceful, legal means. Its activities are on the cutting edge of the abortion issue, taking direct action to stop abortion and ultimately restore legal personhood to the pre-born in obedience to biblical mandates. Click here to support Operation Rescue.
Click here to make a secure donation online
.
________________________________
Web site:
www.operationrescue.org
E-mail:
info@operationrescue.org
Operation Rescue | P.O. Box 782888 | Wichita | KS | 67278