Amid Ongoing Investigations, Carhart Closes Clinic for the Week as Summer of Mercy 2.0 Intensifies
August 1, 2011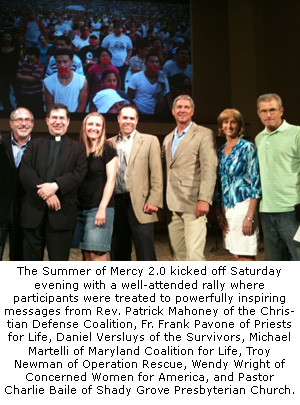 Germantown, MD - Operation Rescue and the rest of the leadership team for the Summer of Mercy 2.0 has confirmed that Germantown Reproductive Health Services, where Carhart is employed, will be closed for the week.
"This is a huge victory," said Operation Rescue President Troy Newman. "While this event is in progress no babies will die in Germantown. That is an answer to our prayers."
The Summer of Mercy 2.0 nine-day pro-life event kicked off over the weekend with two well-attended rallies and prayer vigils featuring powerful national speakers, a live-ultrasound of a pre-born baby, and testimony from a woman who was scheduled for a late-term abortion at Carhart's but instead gave birth to a healthy daughter.
With the clinic closed, Summer of Mercy 2.0 participants are drawing attention to Carhart's true track record including:
"After years of investigation, we can confidently say that Carhart is a dishonest man who is a danger to the public that belongs behind bars. We can document everything we say about him. He cannot do the same," said Operation Rescue President Troy Newman.
"Twenty years ago during the original Summer of Mercy, Operation Rescue led protests in Wichita, Kansas, that resulted in over 2,500 arrests for peaceful civil disobedience. Today, our tactics have changed and now we are using every legal tool available to expose abortion abuses and see to it that abortionists like Carhart are arrested and jailed and their clinics closed. One of the goals of the Summer of Mercy 2.0 is to encourage authorities to act now to bring Carhart to justice and shutter his shady late-term abortion business for good."
________________________________
About Operation Rescue®
Operation Rescue is one of the leading pro-life Christian activist organizations in the nation and has become a strong voice for the pro-life movement in America. Operation Rescue is now headquartered in a former abortion clinic that it bought and closed in 2006. From there, Operation Rescue launches its innovative new strategies across the nation, exposing and closing abortion clinics through peaceful, legal means. Its activities are on the cutting edge of the abortion issue, taking direct action to stop abortion and ultimately restore legal personhood to the pre-born in obedience to biblical mandates. Click here to support Operation Rescue.


________________________________
Web site: www.operationrescue.org
E-mail: info@operationrescue.org


| | |
| --- | --- |
| Operation Rescue President | Christian Defense Coalition |
Operation Rescue

|

P.O. Box 782888

|

Wichita

|

KS

|

67278