Whistleblower Documents Uncover Botched Abortion Epidemic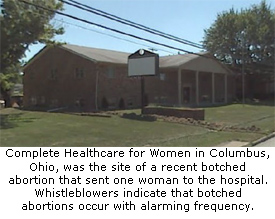 Columbus, OH - Documents and information provided by an abortion whistleblower indicate that botched abortions occur much more often than the public is led to believe. Transcripts provided to Operation Rescue show disturbing information about two botched abortions that took place at different abortion clinics in Columbus, Ohio, within the past month.
"It is our understanding from conversations with our confidential sources in Ohio that abortion patients in Columbus end up in the local emergency rooms with alarming frequency. Our whistleblower says that these two incidents are just the tip of the iceberg. The true number of abortion complications is hidden from the public and it now appears that complications requiring emergency hospitalization have reached epidemic proportions," said Newman.
Operation Rescue is demanding that the Medical Board of Ohio conduct inspections and close the dangerous abortion clinics in Columbus and around the state.
This is the latest of many tips that has come to Operation Rescue since it announced its Abortion Whistleblower Program.
Whistleblowers have been rocking the abortion cartel by coming forward with evidence of abortion abuses, including the following:
________________________________
About Operation Rescue®

Operation Rescue is one of the leading pro-life Christian activist organizations in the nation and has become a strong voice for the pro-life movement in America. Operation Rescue is now headquartered in a former abortion clinic that it bought and closed in 2006. From there, Operation Rescue launches its innovative new strategies across the nation, exposing and closing abortion clinics through peaceful, legal means. Its activities are on the cutting edge of the abortion issue, taking direct action to stop abortion and ultimately restore legal personhood to the pre-born in obedience to biblical mandates. Click here to support Operation Rescue.


________________________________
Web site: www.operationrescue.org
E-mail: info@operationrescue.org

Operation Rescue

President

316-841-1700

Operation Rescue
Operation Rescue | P.O. Box 782888 | Wichita | KS | 67278